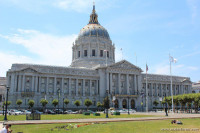 San Francisco City Hall
37.778715°N 122.417532°W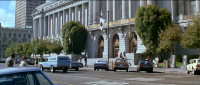 A View to a Kill
37.779969°N 122.418382°W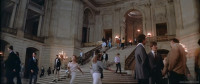 A View to a Kill
37.779547°N 122.418989°W
Inside City Hall.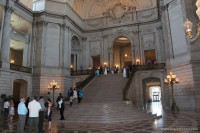 San Francisco City Hall rotunda
37.779658°N 122.419028°W
Roger Moore goes to the Division of Oil and Gas here at San Francisco City Hall where Tanya Roberts works. The building catches on fire in other scenes and Tanya Roberts has to be rescued from the roof by Roger Moore (James Bond).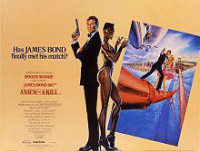 A View to a Kill
A View to a Kill (1985) is the fourteenth spy film of the James Bond series, and the seventh and last to star Roger Moore as the fictional MI6 agent James Bond. Although the title is adapted from Ian Fleming's short story "From a View to a Kill", the film is the fourth Bond film after The Spy Who Loved Me, Moonraker and Octopussy to have an entirely original screenplay. In A View to a Kill, Bond is pitted against Max Zorin, who plans to destroy California's Silicon Valley.