Henry's Fork Caldera
View on map:44.330000°N 111.330000°W
Comments
The caldera was formed when it was over the Yellowstone Hotspot.
Description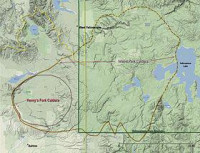 Henry's Fork Caldera
The Henry's Fork Caldera in Idaho is a caldera located an area known as Island Park, west of Yellowstone National Park. The caldera was formed by one of the world's supervolcanos in an eruption of more than 280 cubic kilometers 1.3 million years BP, and is the source of the Mesa Falls Tuff.
References
All text is available under the terms of the Creative Commons Attribution-ShareAlike License

Average user rating:
Not rated






Click on a star to rate