Narváez expedition 4 survivors crossed Rio Grande
View on map:26.544923°N 99.170494°W
Comments
Careza de Vaca led the group. The precise location is unknown but it is believed to be somewhere in this area.
Description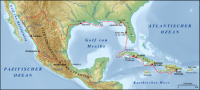 Narváez expedition
The Narváez expedition was a Spanish attempt during the years 1527–1528 to colonize Spanish Florida. It was led by Pánfilo de Narváez, who was appointed to rule as adelantado.
References
Page 250 - Schneider, P., 2007, Brutal Journey: Cabeza de Vaca and the Epic First Crossing of North America: Holt, New York, 366p.
All text is available under the terms of the Creative Commons Attribution-ShareAlike License

Average user rating:
Not rated






Click on a star to rate