Marathon des Sables
View on map:30.849811°N 5.270562°W
Comments
Near where the race begins.
Description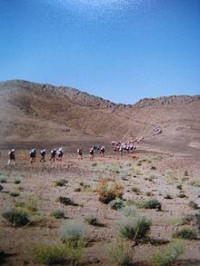 Marathon des Sables
The Marathon des Sables (MdS, Marathon of the Sands, or Sahara Marathon) is a six-day, 251 km (156 mi)[2] ultramarathon, which is the equivalent of six regular marathons. The longest single stage (2009) is 91 km (57 mi) long.
References
Page 268 - Sides, H., 2004, Americana: Dispatches from the New Frontier: Anchor Books, New York, 450P.
All text is available under the terms of the Creative Commons Attribution-ShareAlike License

Average user rating:
Not rated






Click on a star to rate