Tower of Jericho
View on map:31.872041°N 35.443981°E
Comments
The tower is one of the earliest structures built by humans at 11,000 years old.
Description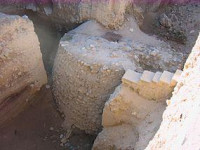 Tower of Jericho
The Tower of Jericho is an 8.5-metre-tall (28 ft) stone structure, built in the Pre-Pottery Neolithic A period around 8000 BCE. It is among the earliest stone monuments of mankind.[2]
References
New Scientist, v. 220, Issue 2937, p. 32-37.
All text is available under the terms of the Creative Commons Attribution-ShareAlike License

Average user rating:
Not rated






Click on a star to rate