Volcán Barú lahar
View on map:8.808489°N 82.599506°W
Comments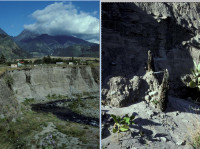 Volcan Baru lahar
8.807746°N 82.599206°W
The picture on the left is the lahar being eroded by the river with the volcano in the background. The image on the right is a picture of the bottom of trees that were buried by the lahar and date to about 1000 years ago.
The rim of the caldera appears to be breached by a lahar. Ground truth verifies that it is a lahar and their are "islands" of what appear to be parts of the caldera in the lahar.
Description
The
Volcán Barú
(also
Volcán de Chiriquí
[1]
) is an active stratovolcano and the tallest
mountain
in
Panama
, at 3,475 metres (11,401 ft) high. It lies about 35 km off the border of
Costa Rica
.
References
All text is available under the terms of the Creative Commons Attribution-ShareAlike License

Average user rating:
Not rated






Click on a star to rate