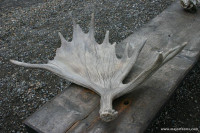 Denali National Park
63.714550°N 149.481344°W
Moose antler along the route to Kantishna. 6/27/2010 10:42:20 AM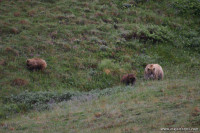 Denali National Park
63.507742°N 150.051436°W
A grizzly bear family on the way to Kantishna. 6/27/2010 11:45:33 AM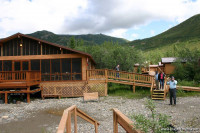 Denali National Park
63.525239°N 150.960303°W
The Denali Backcountry Lodge in Kantishna. 6/27/2010 2:31:30 PM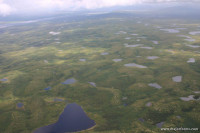 Denali National Park
63.312567°N 151.055578°W
The flight from Kantishna back to the entrance of Denali State Park. The kettle lakes were formed by glaciers (see the text for more detail). 6/27/2010 4:18:17 PM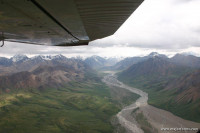 Denali National Park
63.367694°N 150.360225°W
The flight from Kantishna back to the entrance of Denali State Park. The McKinley River is typical of a braided stream on the outwash plain in front of a glacier (see the text for more details). 6/27/2010 4:44:56 PM
Spectacular scenery highlights the 92 mile trek through Denali National Park to the Denali Backcountry Lodge. There are no road vehicles allowed in Denali National Park except for the tour buses.

The only way into Denali National Park, AK, (Map) by road vehicle is along the 92 mile Park Road which is restricted to buses. Fantastic sites and numerous encounters with the wildlife are frequent along the trip. The bus makes frequent stops along the way to stretch and take photographs. The bus has its own park ranger guide who will point out various attractions. If the weather behaves, there will be spectacular views of Mt. McKinley, North America's highest peak. Near the end of the Park Road at Denali Backcountry Lodge in Kantishna lunch awaits. There will also be the opportunity to do some gold panning along the McKinley River at the Backcountry Lodge. The trip takes a full day and there is the option of staying overnight in the Denali Cabins, but a reservation must be made well in advance. In addition, there is the option of returning by plane (need reservations in advance).

Near Kantishna, the buses travel along the McKinley River which is formed by the meltwater from Muldrow Glacier. The braided stream pattern is typical of rivers overloaded with silt and sediments carried from glaciers. Glaciers once covered the entire region so till (deposits of unsorted rock and sediments deposited by glaciers) cover the area all along the way. The flight back, enables viewing of many near-circular lakes that pockmark the terrain. These are called kettle lakes and were formed by huge chunks of ice left behind in the till by retreating glaciers that subsequently melted to form the lakes.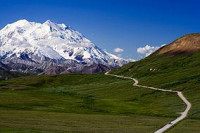 Denali National Park and Preserve
Denali National Park and Preserve is located in Interior Alaska and contains Denali (Mount McKinley), the highest mountain in North America.