Pilot Mountain (North Carolina) monadnock
View on map:36.339991°N 80.474398°W
Comments
The top of Pilot Mountain is a circular exposed wall of rock called Big Pinnacle. It is composed of Saouratown Formation (550 million years old) consisting mostly of quartzites on top of 1.2 billion year old gneisses. Cross bedding and ripple marks can be seen in the quartzites along the Jomeokee Trail which is at the base of Big Pinnacle.
Description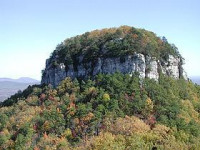 Pilot Mountain (North Carolina)
Pilot Mountain, a metamorphic quartzite monadnock rising to a peak 2,421 feet (738 m) above sea level, is one of the most distinctive natural features in the U.S. state of North Carolina. It is a remnant of the ancient chain of Sauratown Mountains. The Saura Indians, the region's earliest known inhabitants, called the mountain "Jomeokee", meaning "great guide".
References
Page 140 - Dicka, A. B., 2012, 101 American Geo-sites you've gotta see: Mountain Press Publishing Co., 250p.
All text is available under the terms of the Creative Commons Attribution-ShareAlike License

Average user rating:
Not rated






Click on a star to rate