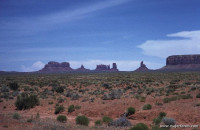 Monument Valley
37.014017°N 110.160619°W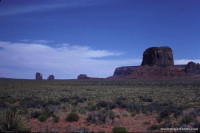 Monument Valley
36.985450°N 110.180225°W
John Ford
John Ford directed Stagecoach and several other movies in Monument Valley.
Monument Valley is associated with the Colorado Plateau and is most noted for the isolated buttes that pepper the region. It is not a national park because the land is part of the Navajo Nation Reservation.

Monument Valley was formed from the erosion by rivers when the region was more humid. The buttes, some of which reach upward to 1,000 ft (300 m), are the remnants of the erosion of the valleys. The red and purple colors throughout the area are from iron and manganese oxides in the rocks. The area encompasses Monument Valley Navajo Tribal Park which was established by the Navajo Nation as the equivalent to a U.S. national park.

Monument Valley has become almost synonymous with the cowboy and Indian Wild West personified in western movies and media even though the area is limited in extent to a relatively small area along the Utah and Arizona border. Perhaps the earliest and most notable film in the area was Stagecoach filmed in 1939 and directed by John Ford and staring John Wayne. Several other well-known movies have been filmed in Monument Valley – Easy Rider, 2001: A Space Odyssey, The Eiger Sanction, Back to the Future III, Thelma and Louise, Forrest Gump, Mission Impossible II, Windtalkers, and many others.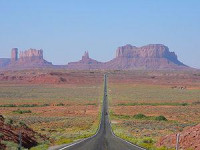 Monument Valley
Monument Valley (Navajo: Tsé Bii' Ndzisgaii, meaning valley of the rocks) is a region of the Colorado Plateau characterized by a cluster of vast sandstone buttes, the largest reaching 1,000 ft (300 m) above the valley floor. It is located on the Arizona-Utah state line (around 36°59′N 110°6′W / 36.983°N 110.1°W / 36.983; -110.1), near the Four Corners area. The valley lies within the range of the Navajo Nation Reservation, and is accessible from U.S. Highway 163.