Nile River Cruise
View on map:27.650962°N 30.782523°E
Comments
There are many cruises to take and many sites to see along the way. You can see most of the important sites by travelling from Cario to the Abu Simbel temples.
Description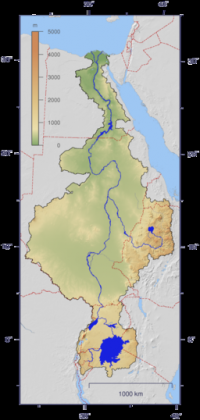 The Nile's watershed
The Nile (Arabic: النيل, an-Nīl; Ancient Egyptian: Iteru & Ḥ'pī; Coptic Egyptian: ⲫⲓⲁⲣⲱ, P(h)iaro; Amharic: ዓባይ , ʿAbbai) is a major north-flowing river in northeastern Africa, generally regarded as the longest river in the world. It is 6,650 km (4,130 miles) long. It runs through the ten countries of Sudan, South Sudan, Burundi, Rwanda, Democratic Republic of the Congo, Tanzania, Kenya, Ethiopia, Uganda and Egypt.
References
All text is available under the terms of the Creative Commons Attribution-ShareAlike License

Average user rating:
Not rated






Click on a star to rate