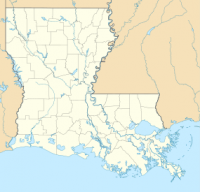 Belcher Mound Site is located in Louisiana
The Belcher Site was a ceremonial center with a
mound
, cemetery, and village area inhabited circa 900 - 1700 CE.
[4]
The mound at Belcher was built in successive levels. Each layer had a structure, which was burned or deserted after a period of use, and the mound subsequently covered with a new layer and building. The earliest were rectangular wall trench structures with
wattle and daub
walls and
grass thatched
gable roofs
. Later, circular structures with interior roof supports and central
hearths
were constructed atop the mound. These were constructed with the same materials, but subdivided into compartments for several living and cooking arrangements. The structures atop the mounds are thought to have been ceremonial lodges or the homes of chieftains.
[2]