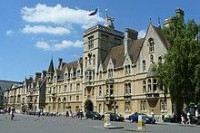 Balliol College, Oxford
Balliol College
(
)
[4]
is one of the
constituent colleges
of the
University of Oxford
in England. One of Oxford's oldest colleges,
[5]
it was founded around 1263 by
John I de Balliol
, a rich landowner from
Barnard Castle
in County Durham, who provided the foundation and endowment for the college.
[6]
When de Balliol died in 1269 his widow,
Dervorguilla
, a woman whose wealth far exceeded that of her husband, continued his work in setting up the college, providing a further endowment, and writing the statutes. She is considered a co‑founder of the college.
[7]