Manson Family murder of John Philip Haught
View on map:33.989328°N 118.474627°W
Comments
The murdered man was called Zero by the family but his real name was John Philip Haught.
Description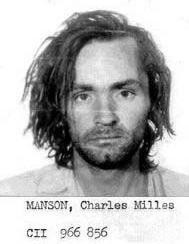 Charles Manson
Charles Milles Manson (born November 12, 1934) is an American criminal and musician who led what became known as the Manson Family, a quasi-commune that arose in California in the late 1960s.[2]:163–4, 313[3] He was found guilty of conspiracy to commit the murders of Sharon Tate and Leno and Rosemary LaBianca carried out by members of the group at his instruction. He was convicted of the murders through the joint-responsibility rule, which makes each member of a conspiracy guilty of crimes his fellow conspirators commit in furtherance of the conspiracy's objective.[4][5]
References
Page 120 - Bugliosi, Vincent and Gentry, Curt, 1974, Helter Skelter: The True Story of the Manson Murders: Norton, New York, 687p.
All text is available under the terms of the Creative Commons Attribution-ShareAlike License

Average user rating:
5.0






Click on a star to rate