Viktor Yanukovych former home (Mezhyhirya)
View on map:50.614972°N 30.474306°E
Comments
Former opulent home of former president of the Ukraine Viktor Yanukovych.
Description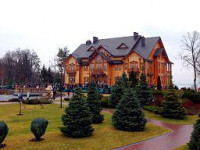 Mezhyhirya Residence
The estate is over 140 ha (350 acres) and is situated on the banks of the Dnieper river (Kiev Reservoir). From 1935 to 2007 Mezhyhirya was a state government residence until it was turned into a private property. In 2012 the State Administration of Affairs rented a space from Tantalit for 99,691 hryvnia per year arranging it for official receptions.[8][9][10]
References
All text is available under the terms of the Creative Commons Attribution-ShareAlike License

Average user rating:
5.0






Click on a star to rate