Whitman Mission National Historic Site
View on map:46.041284°N 118.464167°W
Comments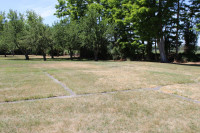 Mission site
46.040257°N 118.464919°W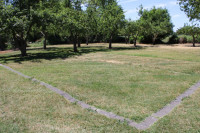 First house built on the Whitman Mission site
46.040215°N 118.463160°W
The outline of the buildings is all that remains of the mission.
Description
Whitman Mission National Historic Site
Whitman Mission National Historic Site is a United States National Historic Site located just west of Walla Walla, Washington, at the site of the former Whitman Mission at Waiilatpu. On November 29, 1847, Dr. Marcus Whitman, his wife Narcissa Whitman, and 11 others were slain by Native Americans of the Cayuse. The site commemorates the Whitmans, the role they played in establishing the Oregon Trail, and the challenges encountered when two cultures meet.
References
Gowans, Fred R. 1985. Rocky Mountain Rendezvous: A History of the Fur Trade Rendezvous 1825-1840. Layton, UT: Peregrine Smith Books.
All text is available under the terms of the Creative Commons Attribution-ShareAlike License

Average user rating:
Not rated






Click on a star to rate