Place that the RMS Titanic is believed to have sunk on April 15th, 1912. More than 1,500 people died that night.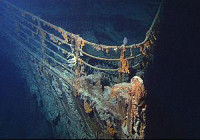 Wreck of the RMS Titanic
The wreck of the RMS Titanic is located about 370 miles (600 km) south-southeast of the coast of Newfoundland, lying at a depth of about 12,500 feet (3,800 m). Over the years since the sinking of the Titanic on 14/15 April 1912, many impractical, expensive and often physically impossible schemes have been put forward to raise the wreck from its resting place. They have included ideas such as filling the wreck with ping-pong balls, injecting it with 180,000 tons of Vaseline, or using half a million tons of liquid nitrogen to turn it into a giant iceberg that would float back to the surface.