The last "Who put Bella in the Wuch Elm" graffito was placed here on the Wychbury Obelisk in 1999.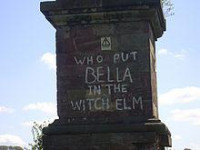 Who put Bella in the Wych Elm?
WHO PUT BELLA IN THE WITCH ELM is a graffito that started appearing soon after a 1941 unsolved murder. The graffiti was last sprayed onto the side of a 200 year-old obelisk on 18 August 1999, in white paint. The obelisk known as Wychbury Obelisk is on Wychbury Hill, Hagley near Stourbridge, in Worcestershire, England.